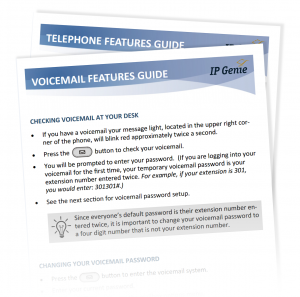 We have prepared the following Quick Start Guides to aid new users in the operation of your new VOIP telephone system. They also acquaint experienced users with new feature sets which might not have been available during your initial installation.
You can download each guide by clicking on the following links:
Telephone Features Guide covers basic telephone operations including placing and receiving calls, call forwarding to another extension or cellphone and call transferring.
Voicemail Features Guide covers setting up a new voicemail box, changing your passwords and busy and away greetings to name a few.
Each guide has been specially formatted to print on standard letter sized paper on either laser or inkjet printers or color copiers with direct printing capability. For best results use a printer that prints on both sides of a page and choose short-edge duplexing. If your printer does not offer duplex printing, simply print the first side of the page and then flip the page over and print the second.